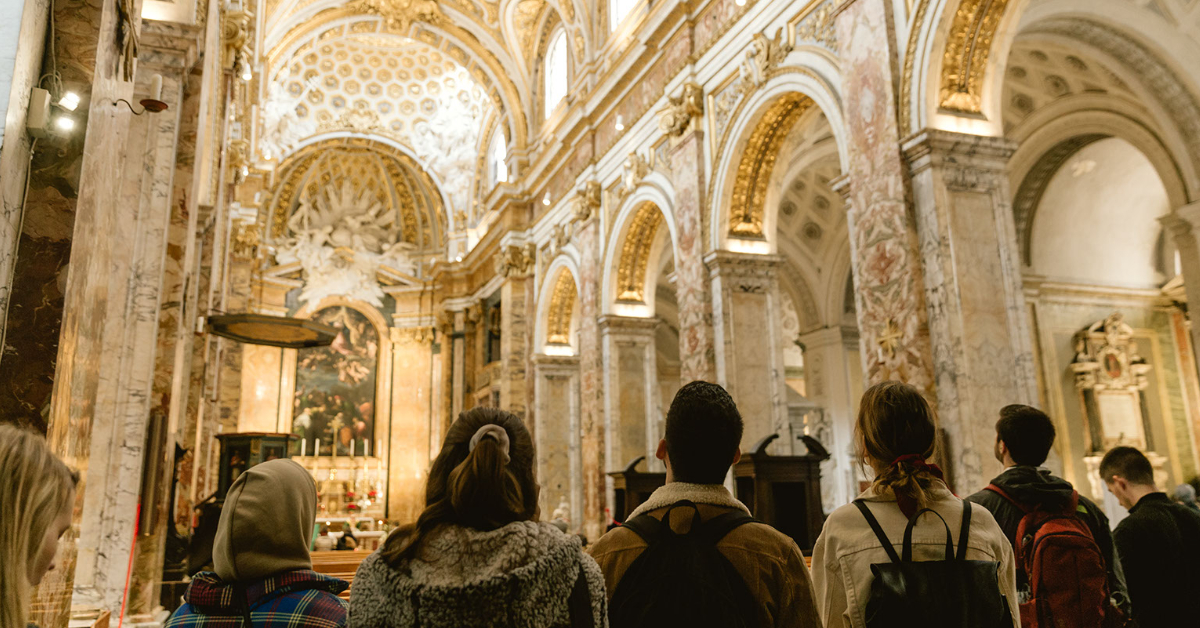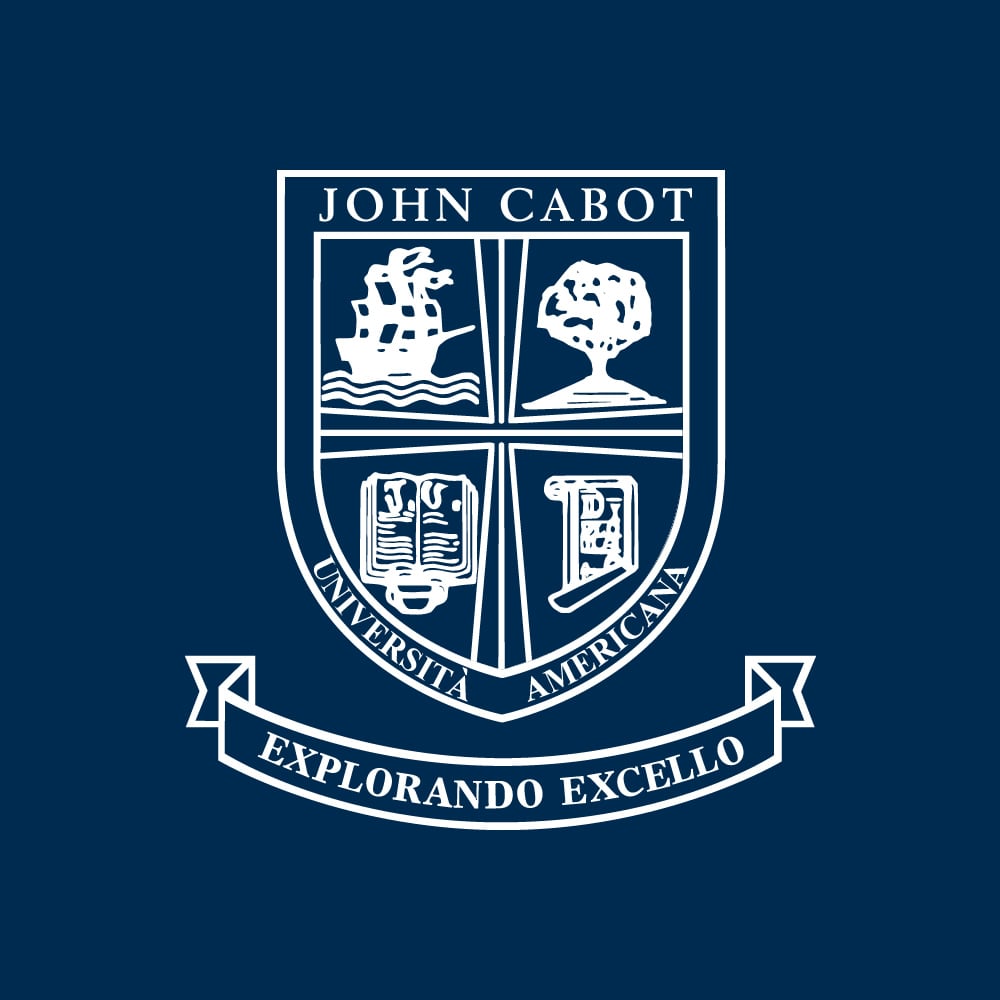 Graduates of an Art History degree at John Cabot University are leaders in a diverse range of fields. Art history is a discipline that deals with the evolution of culture through history and encompasses all manner of visual works. Since it is connected to several other disciplines, art history develops a broad skill set in students that can be applied to the cultural, social, and political spheres of society. From communication to design to critical thinking, the skills of art history graduates are highly sought out by a range of professions. If you're interested in learning more about where your studies can take you, read on to discover career opportunities open to art history graduates at JCU!
1. Prepare for Museum Jobs When You Study Art History in Rome
Museums are the primary place for collecting, preserving, and interpreting art. They exhibit works of artistic, cultural, or scientific significance for the education of the public. In these settings, an art historian is needed to oversee the display of art and other materials in roles as curators, educators, or managers. The essence of a museum might not be immediately visible to people without sufficient knowledge of the artworks. In that case, art historians are responsible for making sure that a museum remains relevant, accessible, and informative to its audience.
Students at our Rome university will have unique access to some of the most renowned artworks and museums in the world. Learning in this environment provides you with a historic context for art, with opportunities to enhance your education through trips to art galleries. These experiences will set John Cabot University students apart when applying for internships and employment in the art world.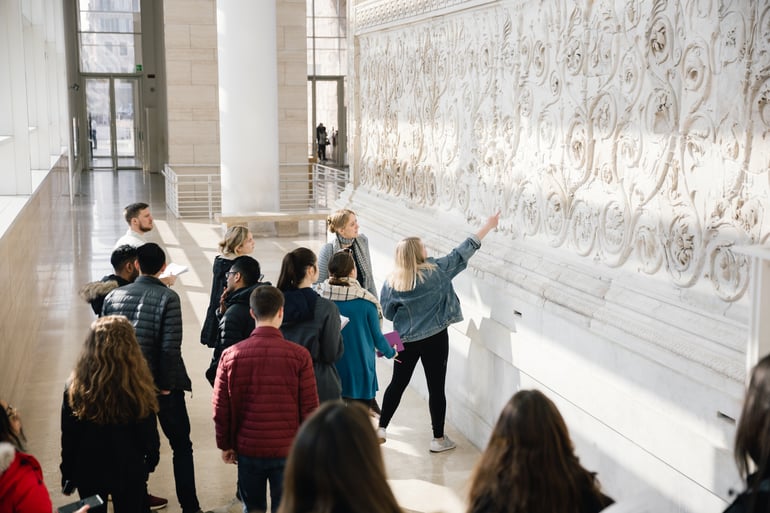 Study art history in Rome and gain an insight into museum work
2. Apply Your Skills to Marketing
Visual literacy is a crucial component of an Art History degree. Those who study art history in Rome through the JCU program will exercise their aesthetic appreciation and develop an eye for the features of the design. With courses at the university covering the Visual Culture of the Modern and Contemporary World, a JCU art history degree will inform your understanding of how images shape public understanding. Upon graduating, John Cabot students can apply that knowledge to the fields of media and advertising, to promote the sales of particular services through compelling visuals. Graduates can use their expertise in visual culture to create campaigns that attract and engage the public. By understanding the aesthetic dimensions of society, JCU's art history graduates can explore a number of creative vocations.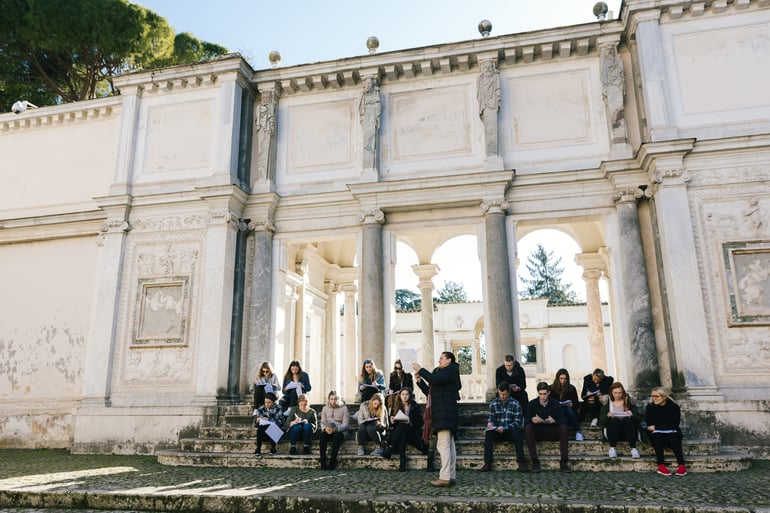 Students at JCU can apply their visual literacy skills to a career in media and marketing
3. Discover Careers in Education
An art history degree from John Cabot can be applied to a career in education. As educators, art historians are responsible for sharing their knowledge of art in museums or academic settings. An increasing number of schools around the world are placing greater emphasis on the value of art in education. Some schools are dedicated to the study of art, including both performing arts and visual arts. In those settings, an informed teacher or lecturer is required. Depending on the specific role or audience that they're working with, art history teachers may conduct research, engage with the public, or mentor students in a classroom setting.
Are you strongly considering an American university in Italy?
Be sure to contact John Cabot University today!